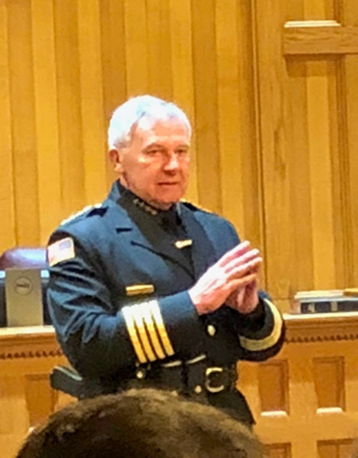 Mission Statement: It is the mission of the Schoharie County Sheriff's Office to safeguard life, property and to improve our community through the enforcement of law in a vigorous, professional, and compassionate manner.
Dating back to 1795, the Office of the Sheriff is one of the oldest offices in government in Schoharie County. The Sheriff, elected by the people, serves as the Chief Law Enforcement Officer of the County, and is directly responsible for the safety and well being of its citizens. The Sheriff's Office is staffed by highly trained and dedicated individuals who serve the county in many ways as a full-service law enforcement agency and correctional facility.
The Schoharie County Sheriff's Office is proud of its continued efforts and well-established community-based approach to policing. The office strives to enhance the quality of life of all who reside here, as well as those who visit and travel through our communities. With a community first foundation, the goals of the agency are achieved by competent and complete investigations, of all incidents, while seeking solutions and fostering a sense of security in communities and individuals.
The Office strives to inform, educate, and cooperate with the people we serve, regarding matters of interest, concern and safety. The men and women of the Office nurture public trust by holding themselves to the highest standards of performance and ethics in line with the Procedural Justice Principles.
The Sheriff's Office consists of multiple divisions, all staffed and lead by well trained and exceptional members.

Office Information:
Location: Harvey Stoddard Public Safety Facility

Physical Address: 157 Steadman Way, Howes Cave, NY 12092
Mailing Address: P.O. Box 159, Howes Cave, NY 12092

Divisions:
Administration:
Phone: 518-295-2266
Sheriff Ronald R. Stevens
Undersheriff Bruce C. Baker
Communications:
Emergency: 9-1-1
Non-Emergency: 518-295-8114
Fax 518-295-2278
Civil Office:
Sgt. Jeffrey McCoy (Supervisor)
Phone: 518-295-2268
Fax: 518-295-2267
Pistol Permits:
Deputy Denise Proctor (New Applications)
Phone: 518-295-2226
Charlene Olsen (Amendments)
Phone: 518-295-2202
Records:
Phone: 518-295-2269
Fax: 518-295-2267
Road Patrol:
Phone: 518-295-2271
Fax: 518-295-2267
Corrections:
Lt. Roger Butler (Jail Administrator)
Phone: 518-295-2264
Fax: 518-295-2284
Court Security:
Phone: 518-453-6994
Confidential Tip Line:
Phone: 518-295-2295